How Many Pull-Ups Can the Average Person Do?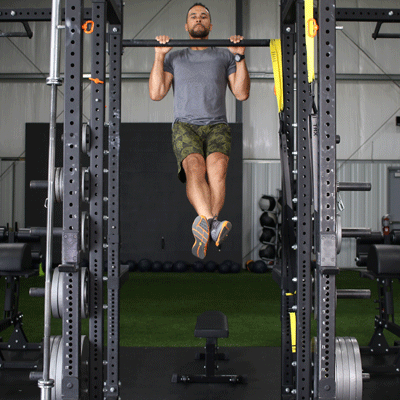 What is the average pull-up capability results?
Pullups are an exercise traditionally used to measure upper body strength and endurance. The pullup is performed by gripping an elevated straight-bar with an overhand grip and pulling up so that your chin is at bar level. The average number of pullups a man can do typically depends on his current age. Pullups strengthen and improve the physique of your back, biceps and forearms when used for exercise. Always consult a doctor before beginning a new exercise regimen.
1. Children
The President's Council on Physical Fitness and Sports states that the 50th percentile for pullups for males ages 6 to 12 are 1 to 2 full repetitions. Specifically, boys ages 6 to 9 are expected to perform 1 pullup for the 50th percentile while boys ages 10 to 12 are expected to perform 2 pullups. There is no time limit; a child can take as long as he needs to perform the pullups.
2. Teenagers
The President's Council raises the number of pullups required to meet the 50th percentile for teenagers by several repetitions.
Thirteen-year-old males are expected to perform three pullups. Fourteen-year-olds are expected to perform 2 more reps for a total of 5 reps for meeting the 50th percentile. Fifteen-year-olds are expected to complete 6 reps; while 16-year-olds typically do 7 reps, and 18-year-olds do 8 reps. There's no specific time limit on how long it may take a teen to perform the pullups.
3. Adults
Males over the age of 18 are expected to perform 8 repetitions of pullups to be classified as in "borderline shape" according to the President's Council. The average number of pullups a male can do begins to decline around the 31 to 50 age bracket, and is normally associated with a decline in physical activity and an increase in weight. The world record holder in number of repetitions in 1 minute is the Vitaly Kulikov from Russia, who performed 59 pullups in a scant 60 seconds in 2012.
The record for most pullups in 24 hours is held by Jan Kareš of the Czech Republic, who performed 4,620 pullups in 22:55 hours in 2011.
4. Military
Military pullup averages and standards depend on branch of service and level of fitness required for the specific assigned duty.
Enlistees into the United States Marine Corp must be able to perform at least 3 pullups; however, a score of 50 percent is met with a total of 10 pullups completed.
Unlike other military athletic tests such as crunches and the 3-mile run, pullup tests have no set time limit. Military members undergo a physical fitness assessment once or twice a year, depending on the branch of service, and must fulfill the minimum standards of fitness to remain on active duty.
How many pullups can YOU perform?
Here is an easy and cheap way to improve it!
The pull-up is a difficult exercise that requires you to sustain your entire body while pulling up on a high bar. Though the move is effective for strengthening your lats, rhomboids, trapezius and biceps, accomplishing even one can be challenging. The resistance band helps you to rebound and therefore adds momentum to the upward phase of the exercise. That extra bit of assistance can turn the elusive pull-up into an actual achievement.
The best way to get better at pull-ups is to do assisted pull-ups. Bands offset your bodyweight so you get more reps and increase strength faster. As you get stronger you'll need less and less pull up band assistance and can use a lighter bands.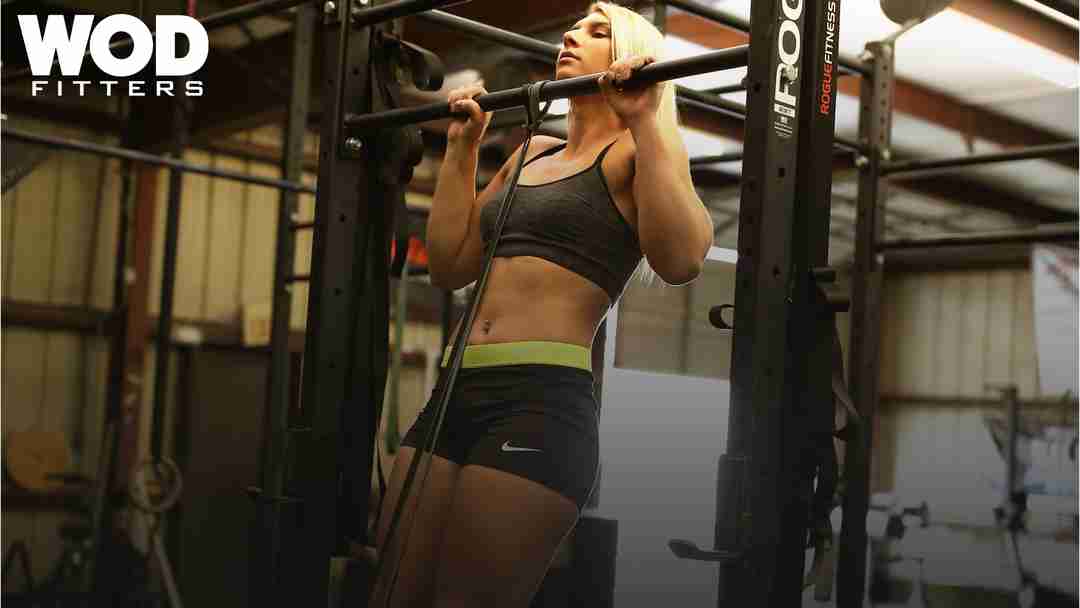 Step 1:
Warm up before practicing pullups with at least 10 minutes of moderate cardiovascular exercise, such as jogging, jumping rope or rowing.
Step 2:
Choose a resistance band based on your fitness level. Resistance bands are color-coded in a variety of tensions. Yellow has the least resistance, red and green provide a medium level of resistance and blue and black offer the most resistance. Start with blue or black if you are a beginner. Gradually progress to the lighter resistance bands as you become stronger.
Step 3:
Loop both ends of the resistance band around the bar, and tie each in a secure knot. Test the band to make sure it is secure by pulling it down.
Step 4:
Place the center of your dominant foot into the bottom of the band. Slightly bend your nonworking leg and cross it behind the dominant leg.
Step 5:
Take hold of the pullup bar with an overhand grip, hands separated slightly wider than shoulder width. Stand on a chair or exercise box if you are not able to reach the bar. Slide your shoulder blades down your back and engage your abdominal muscles. Brace your glutes and pelvis so that your body stays stable and rigid throughout the exercise.
Step 6:
Pull your chin up toward the bar as your elbows bend and point toward the floor. Aim to have your chin clear the bar.
Step 7:
Lower your body gradually, straightening your arms to return to starting position. Use the momentum of the band to immediately perform the next repetitions. Aim to complete five to eight reps.
Engage your core to stabilize your body throughout the exercise.
Warnings
Make sure the middle of your foot is securely placed on the bottom of the band to avoid slipping. Wear athletic shoes; the tread can help to grip the band. Avoid performing the exercise in bare feet. Consult with a physician before starting a new or expanding an existing fitness program. Avoid performing pullups if you have any back, shoulder or arm injuries.
What people are saying about us...
I needed a resistance band for at home and these WODFitters bands were affordable! They ran a sale and I grabbed one, wish I would have grabbed a few various sizes. I have the black band and it's just enough that I can do banded pulls and various stretches with it. I need more resistance for pull-ups because I'm not strong enough yet but they have one that would be perfect for that too. I love that they send you instructions and information/tips on how to use this!

These bands are awesome! Have the whole family doing assisted pull-ups now. The bands are very heavy duty and the handy pouch that came with them keeps them organized. If you are looking for some bands I'd highly recommend the WODFitters!

Great Resistance bands for use at home and on the road. Would definitely recommend them.

I think these are quality bands and have been working great. I highly recommend WODFitters, and these bands.